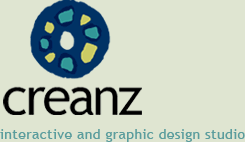 Overview
Creanz, is an interactive and graphic design studio offering Web Design and Visual Identity Design services with clients in United States, Mexico and Central America.

We design both for individuals and companies. Whether you need help with your logo, a basic homepage or a full website with tools, Creanz will deliver creative solutions that meet your specific needs.

Our design mission is being dedicated to the excellence required to accurately represent your business online or on print.